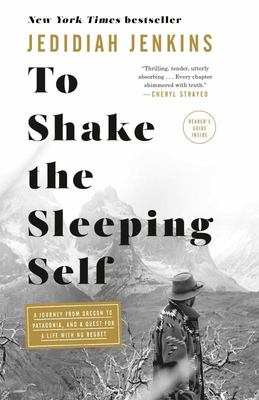 $22.99
AUD
Category: Travel
'A thrilling, tender, utterly absorbing book. It's an unforgettable debut' Cheryl Strayed A soul-stirring read for the wanderer in each of us, To Shake the Sleeping Self is an unforgettable reflection on adventure, identity and a life lived without regret. On the eve of turning thirty, terrified of bein g funnelled into a life he didn't choose, Jedidiah Jenkins quit his dream job and spent sixteen months cycling from Oregon to Patagonia. He chronicled the trip online, where his photos and reflections drew hundreds of thousands of followers, all gathered around the question: What makes a life worth living? ...Show more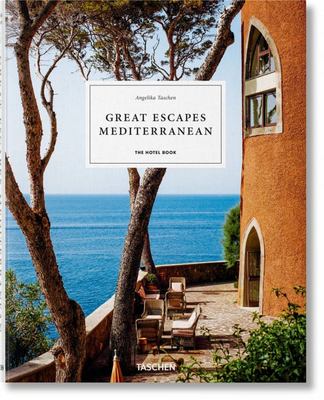 $99.95
AUD
Category: Travel
The Mediterranean is surrounded by three continents - Europe, Africa and Asia - and even though the cultures around this sea are highly diverse, they harmoniously share a pleasant climate, distinctive flora and fauna, and not least the intense blue of the water. Angelika Taschen set out in search of th e most beautiful hotels on a great variety of coasts, islands and beaches, taking you on a journey to the luxurious Hotel du Cap-Eden-Roc and the ultra-chic Les Roches Rouges on the Côte d'Azur, to the little-known Pardini's Hermitage on the Italian island of Giglio, which is only accessible by boat or on foot, and to Bodrum in Turkey, where the elegant Amanruya resort lies hidden in one of the most stunning bays in the Mediterranean. She also presents new hotel concepts, great architecture and creative design - for example the finca Menorca Experimental on the Balearic Islands, the modernist Villa Dubrovnik in Croatia and Dexamenes on the Peloponnese, where new life was breathed into decommissioned wine tanks. Further highlights are the brand-new, stylishly designed Mezzatorre on Ischia and the Torre di Cala Piccola with its enchanting private beach on the Argentario peninsula in Tuscany, an almost unknown location that possesses the aura of 1960s Italy. Another real gem is La Locanda del Barbablù, with just five rooms in the shadow of the mythical volcano on Stromboli. Look forward to staying at the Nord-Pinus in Tangier with its fantastic view of the Strait of Gibraltar, and the charming Coco-Mat Eco Residences on Serifos, or experiencing the originality of Ammos on Crete, where the art and design are as essential as the sun and the beach! ...Show more
$34.99
AUD
Category: Travel | Series: Travel Guide Ser.
Lonely Planet Best Day Walks Australia is your passport to 60 escapes into nature. Stretch your legs away from the city by picking a walk that works for you, from just a couple of hours to a full day, from easy to hard. Stroll vine-striped hillsides, discover hidden coastlines, or explore the Outback. G et to the heart of Australia and begin your journey now!   Inside Lonely Planet Best Day Walks Australia Travel Guide:  Colour maps and images throughout Special features - on Australia's highlights for walkers, kid-friendly walks, accessible trails and what to take Best for... section helps you plan your trip and select walks that appeal to your interests Region profiles cover when to go, where to stay, what's on, cultural insights, and local food and drink recommendations to refuel and refresh. Featured regions include: Sydney & Around, Byron Bay to the Sunshine Coast, The Daintree & the Far North, the Outback, The Kimberley & Pilbara, Southwest Forests to the Sea, Flinders to Fleurieu, Grampians to the High Country, the Prom to the Great Ocean Road, and Tasmania Essential info at your fingertips - walk itineraries accompanied by illustrative maps are combined with details about walk duration, distance, terrain, start/end locations and difficulty (classified as easy, easy-moderate, moderate, moderate-hard, or hard) Over 70 maps   The Perfect Choice: Lonely Planet Best Day Walks Australia, our most comprehensive guide to walking in Australia, is perfect for those planning to explore Australia on foot. Looking for more information on Australia? Check out Lonely Planet Australia guide for a comprehensive look at what the country has to offer.    ...Show more
$45.00
AUD
Category: Travel
Loving Country is a book that inspires ultimate respect for Mother Earth and the role of her custodians. While readers are encouraged to discover the sacred country of Australia in an open-minded and sensitive manner, the intention of this book is to foster communication and understanding between all pe oples and country, to bring about a range of environmental and social changes. Co-authors Bruce Pascoe and Vicky Shukuroglou hope to empower communities to tell their own stories, and for people to honour them and the country from which they have grown. Beautifully designed, all of the writing and photography in Loving Country has been created in consultation with communities. From the ingenious fish traps at Brewarrina and the rivers that feed the Great Barrier Reef, to the love stories of Wiluna and the whale story of Margaret River, there is so much to celebrate and admire about the oldest continuing culture in the world. For those who want to do more than a whistle-stop tour of Australia, this book offers some keys to unlock and reveal the heart of this loving country. ...Show more
$39.99
AUD
Category: Travel | Series: Ultimate Ser.
In Ultimate Campsites: Australia, Penny Watson maps out 75 of the country's most wild and wondrous nature-based campgrounds, from the turquoise and white sandy beaches of Queensland and pristine national parks of New South Wales, to the wineries of South Australia and the wilderness areas of Tasmania. Ever pitched a tent within a stone's throw of a picturesque waterfall? Ever woken up in a sleeping bag to the gentle sound of waves? Ever seen the sun go down in the desert or fallen asleep in an ancient rainforest? Well, now's the time to tick off these experiences on your camping bucketlist! Each state-by-state chapter in Ultimate Campsites: Australia contains detailed maps and the what-when-why-where information about each campground, alongside tips and anecdotes about the surrounding regions. You'll find special sections dedicated to remote-island campgrounds, as well as sites with great walks and places close by to Indigenous cultural experiences. There are also quick and easy lists for camping with pets, free camping, 4WD access and commercial campgrounds, and handy camping trail itineraries for when you want to tick off two or three campgrounds in one trip. This book is an essential tool for the glovebox, be it in a 2WD or a motorhome. It's also the kind of book that will get plenty of wear and tear on the coffee table while you're planning that next big adventure in Australia's great outdoors. ...Show more
$19.99
AUD
Category: Travel
'Stunningly written' Sunday Times 'Richly absorbing' Guardian 'Hooks you in from the start' Times 'Masterful' Independent 'Hugely compelling' Observer 'Wonderful' Financial Times _______________ Siberia's story is traditionally one of exiles, bitter cold and suffering. Yet there is another tale to tell. Dotted throughout this remote land are pianos created during the boom years of the nineteenth century. They tell the story of how, ever since entering Russian culture under the influence of Catherine the Great, piano music has run through the country like blood. How these pianos travelled into this snow-bound wilderness in the first place is remarkable. That they might be capable of making music in such a hostile landscape feels like a miracle. The Lost Pianos of Siberia is a story about a piano hunt - a quixotic journey through two centuries of Russian history and eight time zones stretching across an eleventh of the world's land surface. It reveals not only an unexpected musical legacy, but profound humanity in the last place on earth you might expect to find it. ...Show more
$32.99
AUD
Category: Travel
The incredible, inspiring story of a solo journey through Australia's toughest and most beautiful hiking trail - the Australian Alps Walking Track - for fans of INTO THE WILD by Jon Krakauer or Cheryl Strayed's WILD and anyone who dreams of iconic wilderness walks. At the start of the hellish, fiery Au stralian summer of 2019/20, Walkley Award-winning journalist and suburban dad Anthony Sharwood set off on a journey. Abandoning his post on a busy news website to clear his mind, he solo-trekked the Australian Alps Walking Track, Australia's most gruelling and breathtakingly beautiful mainland hiking trail, which traverses the entirety of the legendary High Country from Gippsland in Victoria to the outskirts of Canberra. The journey started in a blizzard and ended in a blaze. Along the way, this lifelong lover of the mountains came to realise that nothing would ever be the same - either for him or for the imperilled Australian Alps, a landscape as fragile and sensitive to the changing climate as the Great Barrier Reef. ...Show more
$22.99
AUD
Category: Travel
One sunny spring morning in the seventies, an unlikely Englishman set out on a pilgrimage that would take him across Japan's entire length. Traveling only along small back roads, Alan Booth travelled on foot from Soya, the country's northernmost tip, to Sata in the extreme south, traversing three island s and some 2,000 miles of rural Japan. His mission- 'to come to grips with the business of living here,' after having spent most of his adult life in Tokyo. The Roads to Sata is a wry, witty, inimitable account of that prodigious trek, vividly revealing the reality of life off-the-tourist-track in Japan. Journeying alongside Booth, we encounter the wide variety of people who inhabit the Japanese countryside - from fishermen and soldiers, to bar hostesses and school teachers, to hermits, drunks and the homeless. We glimpse vast stretches of coastline and rambling townscapes, mountains and motorways; watch baseball games and sunrises; sample trout and Kilamanjaro beer, hear folklore, poems, and smutty jokes. Throughout, we enjoy the wit and insight of a uniquely perceptive guide, and more importantly, discover a new face of an often-misunderstood nation. ...Show more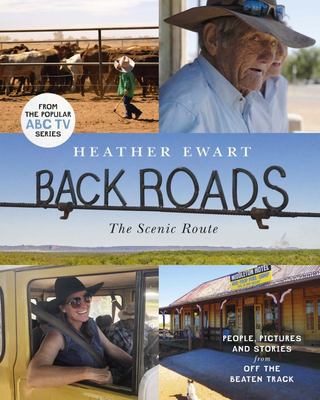 $39.99
AUD
Category: Travel
From the ABC Back Roads team, Australia's inspiring rural communities in splendid, vivid colour During the five years it has been appearing on our screens, ABC TV's Back Roads has taken us across Australia, through scorched deserts, along sapphire coasts, up breathtaking mountains and over gentle, roll ing plains. It has shown us the rugged landscapes, the resilient communities and the extraordinary individuals who make a life in those areas outside the big cities. In this book, we capture in vivid colour some of our favourite people and places. Full of glorious photos that show us the spirit, purpose, difficulties and humour of outback life, this book is a tribute to the surprising characters, the rarely told stories and the sometimes beautiful, sometimes strange places that exist along the back roads of our extraordinary country. ...Show more
$45.00
AUD
Category: Travel | Series: A Day at
A comprehensive tour of the magnificent Ch teau de Chantilly, its superlative art collection, important stables, and beautiful gardens. The Domaine de Chantilly is an exceptional treasure of French culture and heritage, rebuilt after the Revolution by Henri d'Orl ans, duc d'Aumale--son of King Louis-Phi lippe--as a home and museum for his unrivaled collection of furniture, decorative arts, books, and paintings. These constitute the Cond Museum's extensive galleries--second only to the Louvre in France--with masterpieces including paintings by Raphael, Clouet, Poussin, and Ingres; the illuminated manuscript Les Tr s Riches Heures du Duc de Berry; furniture; porcelains; drawings; and early photographs. Chantilly's elegant private apartments, kept precisely as they were during the duc d'Aumale's lifetime, are beautifully preserved examples of the uniquely French Louis Philippe style; its recently restored garden was designed by celebrated landscape architect Andr Le N tre; and the still-active Great Stables are the largest and most opulent in Europe. This slipcased volume offers rare access to one of France's most complete and beautiful stately homes and its world-class art collection that is carefully conserved today by the Institut de France. ...Show more
$44.99
AUD
Category: Travel | Series: Epic Ser.
 Lonely Planet explores the world's most righteous spots for riding waves in Epic Surf Breaks, the latest addition to its popular Epic series. From Java's G-Land to Hawaii's North Shore and on to Bells Beach in Victoria, Australia, surfers of all levels are sure to be thrilled. With stunning photograph y and gripping first hand accounts, there's no denying this ride will be epic. ...Show more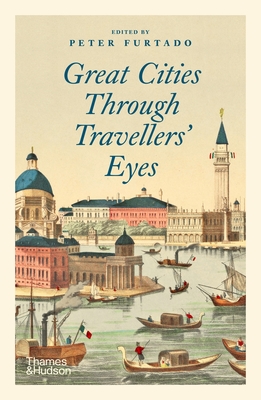 $24.99
AUD
Category: Travel
Throughout history, intrepid men and women have related their experiences and perceptions of the world's great cities to bring them alive to those at home. The thirty-eight cities covered in this entertaining anthology of travellers' tales are spread over six continents, ranging from Beijing to Berlin, Cairo to Chicago, Lhasa to London, St Petersburg to Sydney and Rio to Rome. This volume features commentators across the millennia, including the great travellers of ancient times, such as Strabo and Pausanias; those who undertook extensive journeys in the medieval world, not least Marco Polo and Ibn Battuta; courageous women such as Isabella Bird and Freya Stark; and enterprising writers and journalists including Mark Twain and Norman Lewis. We see the world's great cities through the eyes of traders, explorers, soldiers, diplomats, pilgrims and tourists; the experiences of emperors and monarchs sit alongside those of revolutionaries and artists, but also those of ordinary people who found themselves in remarkable situations, like the medieval Chinese abbot who was shown round the Sainte-Chapelle in Paris by the King of France himself. Some of the writers seek to provide a straightforward, accurate description of all they have seen, while others concentrate on their subjective experiences of the city and encounters with the inhabitants. Introduced and contextualized by bestselling historian Peter Furtado, each account provides both a vivid portrait of a distant place and time and an insight into those who journeyed there. The result is a book that delves into the splendours and stories that exist beyond conventional guidebooks and websites. ...Show more