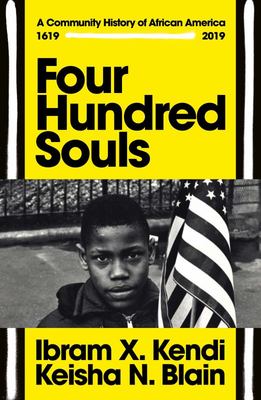 $35.00
AUD
Category: History
An epoch-defining history of African America, the first to appear in a generation, Four Hundred Souls is a chronological account of four hundred years of Black America as told by ninety of America's leading Black writers. Curated by Ibram X. Kendi, author of the number one bestseller How To Be an Antira cist, and fellow historian Keisha N. Blain, Four Hundred Souls begins with the arrival of twenty enslaved Ndongo people on the shores of the British colony in mainland America in 1619, the year before the arrival of the Mayflower. In eighty chronological chapters, the book charts the tragic and triumphant four-hundred-year history of Black American experience in a choral work of exceptional power and beauty. Contributors include some of the best-known scholars, writers, historians, journalists, lawyers, poets and activists of contemporary America who together bring to vivid life countless new facets to the drama of slavery and resistance, segregation and survival, migration and self-discovery, cultural oppression and world-changing artistic, literary and musical creativity. In these pages are dozens of extraordinary lives and personalities, rescued from the archives and restored to their rightful place in America's narrative, as well as the ghosts of millions more. Four Hundred Souls is an essential work of story-telling and reclamation that redefines America and changes our notion of how history is written. ...Show more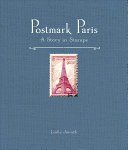 $21.99
AUD
Category: History
The colorful world-within-a-world of postage stamps illustrates this lyrical account of a young girl's experiences in Paris. When she and her family move to the city, her adventures are magically captured in the dainty images of the postage stamps she collects.
$34.99
AUD
Category: Australian History
'Fascinating and lucid ... a valuable insight into an industry once widely praised but now undervalued by a nation that relies on it so strongly.' GEOFFREY BLAINEY The remote Kimberley region of Western Australia has a rich history and unique geography. In the 1960s De Beers, the world's largest diamo nd company, sent gem-hunters to the area but they came away empty-handed. It was a vast region to survey, and they'd overlooked something vital. A few years later, a team of Australian geologists with a tiny budget searched for even tinier mineral clues. Those clues led them to the earth's largest diamond deposit and the world's richest source of rare pink diamonds. Based on in-depth research and interviews-including with Alan King Jones, Bill Leslie and 'the father of Australian diamonds', Ewen Tyler-Argyle- The Impossible Story of Australian Diamonds details the almost overwhelming challenges with realising a diamond mining venture in Australia, shows how these obstacles were overcome, and explores the mine's impact and legacy. ...Show more
$34.99
AUD
Category: Military History
Soon after the declaration of war on Japan, a secret military reconnaissance unit was established, based on the British Special Operations Executive (known as SOE) and called the Inter-allied Services Department. The unit was tasked with the role to "obtain and report information of the enemy ... weaken the enemy by sabotage and destruction of morale and to lend aid and assistance to local efforts to the same end in enemy occupied territories." In 1943 it became known under the cover name Special Reconnaissance Department (SRD) and included some British officers who had escaped from Singapore. After arriving in Australia, they assembled in Melbourne, forming the nucleus of ISD and together with some Australians established what became the Z Special Unit. Training began in a number of locations around Australia including on Fraser Island off the Queensland coast, In Broken Bay near Sydney, at Careening Bay in Western Australia, at the "House on the Hill" in Cairns and at East Arm near Darwin. From these training areas and bases, Z Special undertook intelligence gathering and raiding missions throughout Southeast Asia including New Guinea, Singapore, Timor, Malaya, Borneo, Vietnam and the Dutch East Indies. The first operation was Jaywick in September 1943. Led by a 28 year old officer from the Gordon Highlanders, Captain Ivan Lyon. Using an old Japanese fishing boat renamed Krait this captured vessel was re-fitted and provisioned for a voyage from Australia to just south of Singapore where it released six commandos in three folding kayaks to attack Japanese shipping in the harbour. They placed limpet mines on several Japanese ships sinking 40,000 tons of shipping. After the successful attack, they paddled south, were picked up by the Krait and successfully returned to Australia. This was followed by Operation Rimau again led by Lyon but this time things went very wrong very early. Identified, they made a fighting withdrawal but all of the raiding party were shot or captured, with the last ten being executed just before the end of the war. Important in Z Special operations were a number of vessels designated "snake boats". Four 66'' modified trawlers were constructed as well as a range of Asian vessels that allowed their operation in South East Asian areas of operation. One Z Special, the last in PNG, set out on the night of the 11 April 1945. Eight operatives were landed on the Japanese held island of Muschu about five kilometres off the coast near Wewak to determine the status of two 140mm Japanese naval guns that had been placed there. These guns would prove dangerous to planned naval landings at Wewak, and allied command needed to know if these were operational. The operatives were launched in four double folding kayaks from a HTML fast crash boat but the current carried them away from their landing position and the surf capsized their boats. The men swam ashore but both their radio and their signal torches had been destroyed and the men had no way of connecting with the return crash boat. Soon their lost equipment was found by the Japanese and a massive search with 1,000 troops scoured the island. Quite soon seven of the eight men had been captured, killed or died trying to swim to the mainland and only one man, Sergeant ''Mick'' Dennis remained. Over the next three days he continued a one man war, fighting off Japanese patrols and living off the land. Unable to do this for long, he took to the dangerous shark and crocodile infested waters and with the aid of a log, paddled to the mainland. Landing on a Japanese controlled beach, he snuck ashore and after further firefights and a difficult journey travelling west, he finally was found by an Australian patrol. Mick Dennis was able to provide valuable information and for his service and bravery, was awarded a Military Medal. During the course of the war, Z Special Unit carried out 81 covert operations in the Southwest Pacific theatre. While the unit was disbanded after the end of the war, many of its techniques would be modified and used by Australian Special Forces to this day.   ...Show more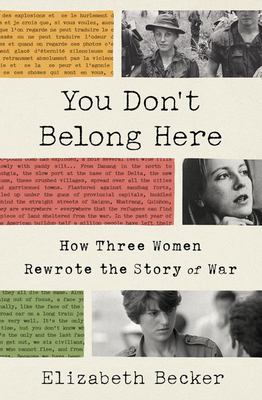 $32.99
AUD
Category: History
The never-before-told story of three women who courageously reported from the frontlines of the Vietnam War. One spent twenty-three days in captivity. Another jumped off planes to get the perfect aerial shot. The other reported from war-torn slums and villages. Catherine Leroy, Frankie Fitzgerald and Ka te Webb were the first female frontline journalists in the history of the US war reporting. Over the course of the Vietnam War they challenged the rules imposed on them, all in an effort to get the story straight. Using the stories of these three women, Elizabeth Becker traces in Vietnam from the Tet Offensive to the revolution in Cambodia to the American defeat and aftermath. Kate Webb, an Australian reporter was captured by the Vietcong only to continue her fearless reporting after her release. American Frankie Fitzgerald's powerful coverage earned her bylines in The New Yorker, and she became the first female war reporter for the magazine. And at only twenty-two, the French Catherine Leroy was one of the only female photographers in Vietnam. In You Don't Belong Here, Becker tells the story of how three women forged a place for themselves and for generations of female reporters to come. ...Show more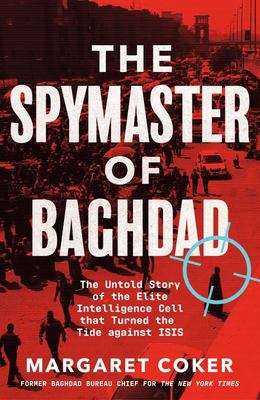 $35.00
AUD
Category: History
'Authentic, moving, visceral, chilling, utterly revelatory, truly masterful. A stunning tour de force by an author who has lived every word of it on the ground. A story of our time that absolutely needs to be told' Damien Lewis, author of Zero Six Bravo The Spymaster of Baghdad is the gripping story of the top-secret Iraqi intelligence unit that infiltrated the Islamic State. More so than that of any foreign power, the information they gathered turned the tide against the insurgency, paving the way to the killing of ISIS leader Abu Bakr al-Baghdadi in 2019. Against the backdrop of the most brutal conflict of recent decades, we chart the spymaster's struggle to develop the unit from scratch in challenging circumstances after the American invasion of Iraq in 2003, we follow the fraught relationship of two of his agents, the Sudani brothers - one undercover in ISIS for sixteen long months, the other his handler - and we track a disillusioned scientist as she turns bomb-maker, threatening the lives of thousands. With unprecedented access to characters on all sides, Pulitzer Prize-finalist Margaret Coker challenges the conventional view that Western coalition forces defeated ISIS and reveals a page-turning story of unlikely heroes, unbelievable courage and good old-fashioned spycraft. *** Margaret Coker is an investigative journalist. She has lived and worked in Iraq and the wider Middle East since 2003. An ex-Baghdad Bureau Chief for the New York Times, she honed her reporting skills at The Wall Street Journal where she was a finalist for the Pulitzer Prize as part of a team chronicling Turkey's failed coup, political purges and teetering democracy. Her coverage of national security issues won the Overseas Press Club Award and the Edwin M. Hood Prize from the National Press Club, America's top prize for diplomatic reporting. This is her first book. ...Show more
$29.99
AUD
Category: Military History
He escaped from Singapore's Changi prisoner of war camp to become one of Australia's greatest World War II guerrilla fighters. 'The way I look at it is this...When you're behind the line and get yourself into trouble, you've got to get your bloody self out irrespective of anybody else. That's why I lik e it.'Scottish-born but a Queenslander to the bone, Jock McLaren was a true Australian hero. As a prisoner he escaped twice, first from Changi and later from the infamous Sandakan POW camp in Borneo. After paddling a dugout canoe across open sea, he fought for two years with American-led Filipino guerrillas, his exploits so audacious the Japanese put a price on his head.At the helm of his 26-foot whaleboat, the Bastard, McLaren sailed brazenly into enemy-held harbours, wreaking havoc with his mortar and machine guns before heading back out to sea. In early 1945 he joined Australia's secretive Z Special Unit, parachuting into Borneo to carry out reconnaissance and organise anti-Japanese resistance ahead of Allied landings. He cheated death on numerous occasions and saved his own life by removing his appendix without anaesthetic, using 'two large dessert spoons' and a razor blade. Drawing on Allied and Japanese wartime documents, Bastard Behind the Lines brings the story of a courageous digger vividly to life and throws light on a rarely explored aspect of Australia's Pacific war.  ...Show more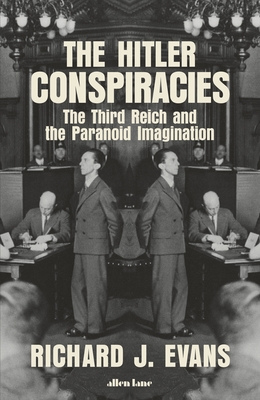 $39.99
AUD
Category: History
The renowned historian of the Third Reich takes on the conspiracy theories surrounding Adolf Hitler and the Nazis, in a vital history book for the 'post-truth' age The idea that nothing happens by chance in history, that nothing is quite what it seems to be at first sight, that everything is the result of the secret machinations of malign groups of people manipulating everything from behind the scenes - these notions are as old as history itself. But conspiracy theories are becoming more popular and more widespread in the twenty-first century. Nowhere have they become more obvious than in revisionist accounts of the history of the Third Reich. Long-discredited conspiracy theories have taken on a new lease of life, given credence by claims of freshly discovered evidence and novel angles of investigation. In The Hitler Conspiracies renowned historian Richard Evans takes five widely discussed claims involving Hitler and the Nazis and subjects them to forensic scrutiny: that the Jews were conspiring to undermine civilization, as outlined in The Protocols of the Elders of Zion; that the German army was 'stabbed in the back' by socialists and Jews in 1918; that the Nazis burned down the Reichstag in order to seize power; that Rudolf Hess' flight to the UK in 1941 was sanctioned by Hitler and conveyed peace terms suppressed by Churchill; and that Hitler escaped the bunker in 1945 and fled to South America. In doing so, it teases out some surprising features that these, and other conspiracy theories, have in common. This is a history book, but it is a history book for the age of 'post-truth' and 'alternative facts': a book for our own troubled times. ...Show more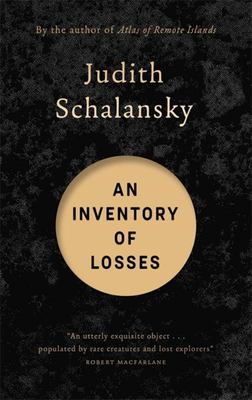 An Inventory of Losses
by Judith Schalansky; Jackie Smith (Translator)
$45.00
AUD
Category: History
A dazzling cabinet of curiosities from one of Europe's most acclaimed and inventive writers. Judith Schalansky's strange and wonderful new book, recalling writers as different as W.G. Sebald and Christa Wolf, Joan Didion and Rebecca Solnit, sees her return to the territory she explored so successfully w ith her best-selling Atlas of Remote Islands: Fifty Islands I Have Never Set Foot On and Never Will, which Robert MacFarlane called "utterly exquisite" (Guardian) and about which Time Out's reviewer said "Rarely has armchair travel been so farflung and romantic". Judith Schalansky is a wholly original writer whose books articulate perfectly what she wishes to say. Each of the pieces, following the conventions of a different genre, considers something that is irretrievably lost to the world, including the paradisal pacific island of Tuanaki, the Caspian Tiger, the Villa Sacchetti in Rome, Sappho's love poems, Greta Garbo's fading beauty, a painting by Caspar David Friedrich, and the former East Germany's Palace of the Republic. As a child of the former East Germany, it's not surprising that the dominant emotion in Schalansky's work should be "loss" and its aftermath, but what is extraordinary is the thoroughly engaging mixture of intellectual curiosity, down-to-earth grasp of life's pitiless vitality, ironic humour, stylistic elegance and intensity of feeling that combine to make this book a masterpiece and one of the most original and beautifully designed books to be published in 2020. Translated from the German by Jackie Smith ...Show more
$24.99
AUD
Category: History
#1 NEW YORK TIMES BESTSELLER * The author of The Devil in the White City and Dead Wake delivers an intimate chronicle of Winston Churchill and London during the Blitz--an inspiring portrait of courage and leadership in a time of unprecedented crisis One of Chicago Tribune's Best Books of the Year So Fa r * "A bravura performance by one of America's greatest storytellers."--NPR "Churchill's lessons of resilience and his style of steady-handed leadership are essential to the state of mind of American readers."--Vanity Fair On Winston Churchill's first day as prime minister, Adolf Hitler invaded Holland and Belgium. Poland and Czechoslovakia had already fallen, and the Dunkirk evacuation was just two weeks away. For the next twelve months, Hitler would wage a relentless bombing campaign, killing 45,000 Britons. It was up to Churchill to hold his country together and persuade President Franklin Roosevelt that Britain was a worthy ally--and willing to fight to the end. In The Splendid and the Vile, Erik Larson shows, in cinematic detail, how Churchill taught the British people "the art of being fearless." It is a story of political brinkmanship, but it's also an intimate domestic drama, set against the backdrop of Churchill's prime-ministerial country home, Chequers; his wartime retreat, Ditchley, where he and his entourage go when the moon is brightest and the bombing threat is highest; and of course 10 Downing Street in London. Drawing on diaries, original archival documents, and once-secret intelligence reports--some released only recently--Larson provides a new lens on London's darkest year through the day-to-day experience of Churchill and his family: his wife, Clementine; their youngest daughter, Mary, who chafes against her parents' wartime protectiveness; their son, Randolph, and his beautiful, unhappy wife, Pamela; Pamela's illicit lover, a dashing American emissary; and the advisers in Churchill's "Secret Circle," to whom he turns in the hardest moments.   The Splendid and the Vile takes readers out of today's political dysfunction and back to a time of true leadership, when, in the face of unrelenting horror, Churchill's eloquence, courage, and perseverance bound a country, and a family, together. ...Show more
$22.99
AUD
Category: History
The fascinating royal and social history that inspired the second and third seasons of The Crown, from the show's historical consultant.
$29.99
AUD
Category: History
This timeless memoir documents two sisters' bravery leading up to WWII - a singular historical account that shines a light on one of humanity's darkest hours. Ida and Louise Cook are two ordinary Englishwomen, seemingly destined never to stray from their quiet London suburb and comfortable jobs - Ida as a budding romance novelist and Louise as a civil service typist. But in 1923, a chance hearing of an aria from Madame Butterfly sparked a passion for opera in the sisters that led to the formation of friendships with some of Europe's leading singers and their network, many of them Jewish. As the Nazis rose to power, Ida and Louise began working with the opera world's insiders to save members of the community from persecution and death. Through ingenuity, thrift and bottomless goodwill, the sisters eluded the suspicion of the Nazis and helped secure safe passage for dozens of refugees. No one would have predicted such daring lives for Ida and Louise Cook - but that underestimation is exactly how they were able to save lives.First published in 1950, Ida's memoir of the adventures she and Louise shared remains as fresh, vital and entertaining as the woman who wrote it, and is a moving testament to the extraordinary acts of courage by two everyday heroes. ...Show more