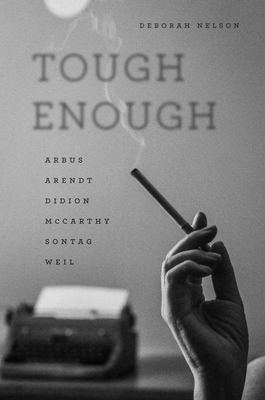 $41.95
AUD
Category: Gender and Society
This book focuses on six brilliant women who are often seen as particularly tough-minded: Simone Weil, Hannah Arendt, Mary McCarthy, Susan Sontag, Diane Arbus, and Joan Didion. Aligned with no single tradition, they escape straightforward categories. Yet their work evinces an affinity of style and philo sophical viewpoint that derives from a shared attitude toward suffering. What Mary McCarthy called a "cold eye" was not merely a personal aversion to displays of emotion: it was an unsentimental mode of attention that dictated both ethical positions and aesthetic approaches.Tough Enough traces the careers of these women and their challenges to the pre-eminence of empathy as the ethical posture from which to examine pain. Their writing and art reveal an adamant belief that the hurts of the world must be treated concretely, directly, and realistically, without recourse to either melodrama or callousness. As Deborah Nelson shows, this stance offers an important counter-tradition to the familiar postwar poles of emotional expressivity on the one hand and cool irony on the other. Ultimately, in its insistence on facing reality without consolation or compensation, this austere "school of the unsentimental" offers new ways to approach suffering in both its spectacular forms and all of its ordinariness. ...Show more
$22.99
AUD
Category: Gender and Society
Male entitlement takes many forms. To sex, yes, but more insidiously to admiration, bodily autonomy, knowledge, power, even care. In this urgent intervention, philosopher Kate Manne offers a radical new framework for understanding misogyny.In clear-sighted, powerful prose, she ranges widely across the c ulture -- from the Kavanaugh hearings and 'Cat Person' to Harvey Weinstein and Elizabeth Warren -- to show how the idea that a privileged man is tacitly deemed to be owed something is a pervasive problem. Male entitlement can explain a wide array of phenomena, from mansplaining and the undertreatment of women's pain to mass shootings by incels and the seemingly intractable notion that women are 'unelectable'. The consequences for girls and women are often devastating.As Manne shows, toxic masculinity is not just the product of a few bad actors; we are all implicated, conditioned as we are by the currents of our time. With wit and intellectual fierceness, she sheds new light on gender and power and offers a vision of a world in which women are just as entitled as men to be cared for, believed and valued. ...Show more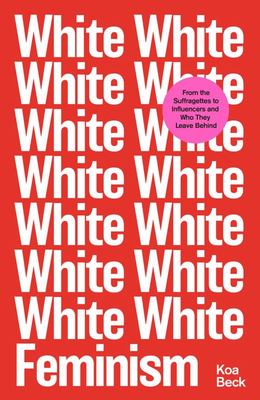 $32.99
AUD
Category: Gender and Society
A timely and impassioned exploration of how our society has commodified feminism and continues to systemically shut out women of colour. Join the important conversation about race, empowerment, and inclusion with this powerful new feminist classic and rousing call for change. Koa Beck, writer and former editor-in-chief of Jezebel, boldly examines the history of feminism, from the true mission of the suffragettes to the rise of corporate feminism with clear-eyed scrutiny and meticulous detail. She also examines overlooked communities, including Native American, Muslim, transgender, and more - and their difficult and ongoing struggles for social change. In these pages she meticulously documents how elitism and racial prejudice has driven the narrative of feminist discourse. She blends pop culture, primary historical research, and first-hand storytelling to show us how we have shut women out of the movement, and what we can do to change things for a new generation. Combining a scholar's understanding with hard data and razor-sharp cultural commentary, White Feminism is a witty, intelligent and profoundly eye-opening book that will challenge long-accepted conventions and completely upend the way we understand the struggle for women's equality. ...Show more
$19.99
AUD
Category: Gender and Society | Series: Penguin Modern Classics Ser.
The woman's place of power within each of us is neither white nor surface; it is dark, it is ancient, and it is deep The revolutionary writings of Audre Lorde gave voice to those 'outside the circle of this society's definition of acceptable women'. Uncompromising, angry and yet full of hope, this coll ection of her essential prose - essays, speeches, letters, interviews - explores race, sexuality, poetry, friendship, the erotic and the need for female solidarity, and includes her landmark piece 'The Master's Tools Will Never Dismantle the Master's House'. 'The truth of her writing is as necessary today as it's ever been' Guardian ...Show more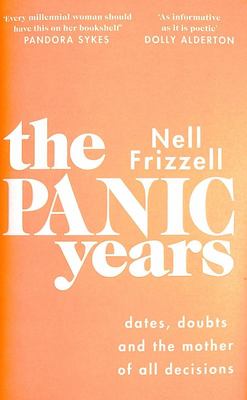 $29.99
AUD
Category: Gender and Society
The Panic Years: something between adolescence and menopause, a personal crisis, a transformation. The panic years can hit at any time but they are most commonly triggered somewhere between the ages of twenty-five and forty. During this time, every decision a woman makes - from postcode to partner, fri ends to family, work to weekends - will be impacted by the urgency of the one decision with a deadline, the one decision that is impossible to take back: whether or not to have a baby. But how to stay sane in such a maddening time? How to understand who you are and what you might want from life? How to know if you're making the right decisions? Raw, hilarious and beguilingly honest, Nell Frizzell's account of her panic years is both an arm around the shoulder and a campaign to start a conversation. This affects us all - women, men, mothers, children, partners, friends, colleagues - so it's time we started talking about it with a little more candour.   ...Show more
$30.95
AUD
Category: Gender and Society | Series: Veritas Paperbacks Ser.
"A feminist classic."--Judith Shulevitz, New York Times Book Review "A pivotal book, one of those after which we will never think the same again."--Carolyn G. Heilbrun, Washington Post Book World A pathbreaking book of literary criticism is now reissued with a new introduction by Lisa Appignanesi that speaks to how The Madwoman in the Attic set the groundwork for subsequent generations of scholars writing about women writers, and why the book still feels fresh some four decades later.]]> ...Show more
$39.99
AUD
Category: Gender and Society | Series: Pelican Bks.
Feminism's origins have often been framed around a limited cast of mostly white and educated foremothers, but the truth is that feminism has been and continues to be a global movement. For centuries, women from all walks of life have been mobilizing for gender justice. As the last decade has reminded ev en the most powerful women, there is nothing "post-feminist" about our world. And there is much to be learned from the passion and protests of the past. Historian Lucy Delap looks to the global past to give us a usable history of the movement against gender injustice--one that can help clarify questions of feminist strategy, priority and focus in the contemporary moment. Rooted in recent innovative histories, the book incorporates alternative starting points and new thinkers, challenging the presumed priority of European feminists and ranging across a global terrain of revolutions, religions, empires and anti-colonial struggles. In Feminisms, we find familiar stories--of suffrage, of solidarity, of protest--yet there is no assumption that feminism looks the same in each place or time. Instead, Delap explores a central paradox: feminists have demanded inclusion but have persistently practiced their own exclusions. Some voices are heard and others are routinely muted. In amplifying the voices of figures at the grassroots level, Delap shows us how a rich relationship to the feminist past can help inform its future. ...Show more
$35.00
AUD
Category: Gender and Society
How to be an older woman? Who knows. Being a young woman can be challenging. But it turns out not even a fraction of the bullshit has happened to you by the time you turn thirty. Because your thirties, forties and beyond see you dealing with Real Life, the stuff you never thought would happen to you- gr ey hair; bereavement; hangovers that last for days; having sex with the same person for years and years and still saying 'thank you afterwards'; balancing career with motherhood - or not - and dealing with your ageing parents. If anything, it gets worse. But you get more amazing. Ten years after the modern classic How to Be a Woman redefined modern feminism, Caitlin Moran explores the art of becoming an older woman. Singing the praises of their no-nonsense wisdom and their almost supernatural ability to simply get shit done, More Than A Woman is a joyous celebration of mothers, daughters, female friendship and life beyond your thirties.   ...Show more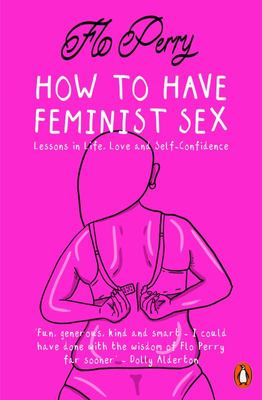 $22.99
AUD
Category: Gender and Society
'Funny, kind, generous and smart - I could have done with the wisdom of Flo Perry far sooner' Dolly AldertonWe talk about feminism in the workplace and we talk about dating after #MeToo, but women's own patriarchal conditioning can be the hardest enemy to defeat. When it comes to our sex lives, few of u s are free of niggling fears and body image insecurities. Rather than enjoying and exploring our bodies uninhibited, we worry about our bikini lines, bulging tummies and whether we're doing it 'right'.Flo broaches everything from faking it to consent, stress to kink, and how losing your virginity isn't so different to eating your first chocolate croissant. Her mission is to get more people talking openly about what they do and don't want from every romantic encounter. ...Show more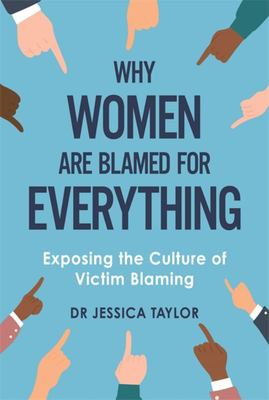 $32.99
AUD
Category: Gender and Society
'Dr Taylor sets out a compelling case . . . gives voice and agency to women who have experienced trauma and violence' Morning Star She asked for it. She was flirting. She was drinking. She was wearing a revealing dress. She was too confident. She walked home alone. She stayed in that relationship. She was naïve. She didn't report soon enough. She didn't fight back. She wanted it. She lied about it. She comes from a bad area. She was vulnerable. She should have known. She should have seen it coming. She should have protected herself. The victim blaming of women is prevalent and normalised in society both in the UK, and around the world. What is it that causes us to blame women who have been abused, raped, trafficked, assaulted or harassed by men? Why are we uncomfortable with placing all of the blame on the perpetrators for their crimes against women and girls? Based on three years of doctoral research and ten years of practice with women and girls, Dr Jessica Taylor explores the many reasons we blame women for male violence committed against them. Written in her unique style and backed up by decades of evidence, this book exposes the powerful forces in society and individual psychology which compel us to blame women subjected to male violence. ...Show more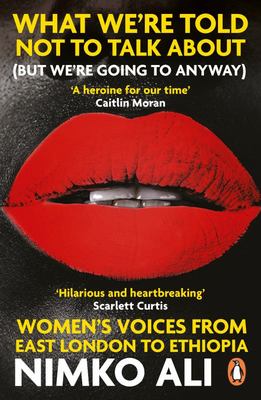 $22.99
AUD
Category: Gender and Society
'Hilarious and heart-breaking at the same time, Nimko has blown apart all taboos, blown apart the echo chamber and included all women in the feminist conversation. Essential reading for everyone' - Scarlett Curtis, author of Feminists Don't Wear Pink 14 countries, 42 women, each with a story no one has heard before. What do you do when you're living on the streets and on your period? What does it feel like to have a poo after you've given birth? How do we learn to love our bodies again after they've been abused? And, how do you know if you've ever really orgasmed? We all have questions about our bodies but often women's voices are silenced for being impolite or improper What We're Told Not To Talk About (But We're Going To Anyway) is an important, taboo-breaking book that gives voice to the experiences of women from all walks of life, whose stories might not ordinarily be heard. Alongside Nimko's story of living with FGM, rebuilding her relationship with her own body and being a woman her own way, these are the true stories of real women who are sharing the experiences they've always been told should be secret and shameful. The book is a call to arms for all women to reclaim the narrative around their bodies and to refuse to bow to the taboos which keep us silent. There is no such thing as oversharing. 'A beautiful book with such a wide range of uplifting but often heart-breaking stories. Made us cry and think in equal measure' - Pandora Sykes, co-host of The High Low 'Nimko's book is going to shift the conversation around women's bodies. Our bodies, and everything they do, make us who we are' - Amika George, founder of Free Periods Campaign. 'Nimko says it how it is. There is no subject too taboo for her to tackle. We should all be talking about our vaginas and she is leading the way' - Bryony Gordon, author of Mad Girl 'Nimko Ali is my hero! She's an anti-FGM activist and is responsible for changing laws across the globe! She is also hilarious and wonderful' - Zoe Sugg 'Nimko Ali is heroine for our time, she destroys the notion of things being too rude to discuss' - Caitlin Moran, author of How to Be a Woman ...Show more
$22.99
AUD
Category: Gender and Society
Clementine Ford reports that one of the questions she is most asked in person and online is 'how do I raise my son to be a feminist? How do I make sure he's a supporter rather than a perpetrator?' That is a question that many parents with sons are haunted by. Now that Clem is mother to a baby boy of he r own, it is a question that haunts her, too. How does a feminist raise a son in a world that conditions boys into entitlement, privilege and power at the expense not just of girls' humanity but also their own? All boys start innocent, but by the time they are adolescents many of them will subscribe to a view of masculinity that is openly contemptuous of women and girls. This explosive new work will look at toxic masculinity and the closed ranks of brotherhood that shape an entitled, disrespectful and potentially dangerous idea of manhood. In Boys Will Be Boys, bestselling and groundbreaking author of Fight Like a Girl Clementine Ford dismantles the age-old idea that entitlement, aggression and toxicity are natural realms for boys and reveals how the patriarchy we live in is as harmful to boys and men as it is to women and girls. ...Show more